About Farlight 84
Farlight 84 is a shooter game in a wasteland setting developed using Unreal Engine 4.
Set in 2084, Farlight 84 takes players to a chaotic wasteland world, where they'll get to commandeer vehicles with deadly offensive capabilities; pick up weapons equipped with incredible abilities; fly and dash around the battlefield with a one-of-a-kind Jetpack; and discover a roster of characters bursting with personality. Smash with armored vehicles, blow' em up! Smash with innovative weapons, free your energy! Smash with jetpacks, fly and dash shooting experience! Smash with unique characters, be who you want to be! Smash it all down!
To enhance and compliment your gameplay, you can buy Farlight 84 diamonds from our list of reputable sellers here at Kaleoz.com in a safe secure environment and at cheap rates.
Farlight Weekly Membership BD
Gamming Bazaar offers you an unparalleled gaming experience with Farlight 84 Weekly Membership BD. We understand that every second counts in the fast-paced universe of Farlight 84.
For this reason, we ensure you instant delivery of the Farlight 84 Weekly Membership. Once you complete the payment ASAP, we deliver it directly to your game account.
How To Top-up Farlight 84 Weekly Membership BD
With Farlight 84 Weekly Membership BD, unlock new levels, weapons, characters, and more. Exclusively these packages are designed for the Bangladesh server.
However, follow the step-by-step instructions below to enhance your gaming experience.
First off, select the Diamond denomination.
Then correctly enter your Farlight 84 Player ID
Click the 'Buy Now' button, but before that, choose the quantity that you want to purchase
Enter your name, phone number and email.
Check out and select your preferred payment method.
Once the payment is confirmed, the Farlight 84 Membership you purchased will be credited to your Farlight 84 account.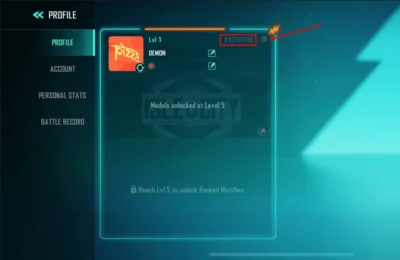 Within 2-10 minutes, we complete the delivery. For your convenience, Gamming Bazaar accepts different payment methods, including bKash, Rocket & Nagad. However, in case of a required refund, remember that 5% will be deducted from the total amount.
How To Find Your Farlight 84 Player ID For Farlight 84 Weekly Membership BD
To find your Farlight 84 player ID follow the steps below:
Open the game.
Your profile is located in the main menu's top left corner; tap on it.
Under your username, you should find your Farlight 84 Player ID.
Farlight 84 Diamonds are the premium currency in the game. The Luck Royale feature allows you to purchase the items you need directly or gamble on them.
Farlight 84 Download Links
Why Choose Gamming Bazaar For Farlight 84 Weekly Membership BD
Millions of gamers monthly rely on Gamming Bazaar for a smooth and seamless gaming experience. We designed the platform for ease of use. We aim to ensure that your purchase is completed within seconds.
Once you purchase from Gamming Bazaar, we will deliver your farlight 84 Weekly Membership directly to your game account as soon as your payment is confirmed. In addition, we offer 24/7 customer support. Whenever you need assistance, knock us; our team is just a message away.